By The chocolate dreams, 2016-09-20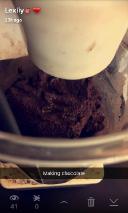 Yesterday , My Team and I Put the chocolate on a hot plate and we used a blow-dryer to heat up the chocolate. It pretty much took us the whole class to heat up the chocolate and then put the chocolate in the melanger. The early steps that we did where cracking the beans and it was kinda difficult but we tried the blow dryer thing. That is where we smashed the beans and then put them in a bowl and Blow dried it an hoping the shells would fly out. Then we did the grinding step and thats where we but the beans in the blender and turn the beans to a liquid type but in our case it was like a dough.
By The chocolate dreams, 2016-09-19
We are a group of highschoolers who have found an interest in the background of making chocolate.  We choose to take a class that is teaching us about chocolate an the background on it. Our first week of school we learned about what chocolate was and the history behind it. The we learned about how it was made and the different steps that come with it. The second week we made our company's and then started to make our first batch. So far, things have been running smoothly, but we did have some troubles when it came to winnowing but we found a way. Right now, we are waiting to heat the chocolate to turn it into a smoother texture because it had turned into a dough so then we can melange. We plan to try and get that step done by the end of today.