Specialty cocoa bean supply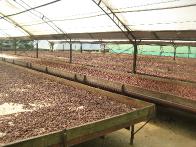 08/31/13 05:29:15PM
@richard-falotico
Hello! I am the cocoa merchant at Atlantic Cocoa Company based in NYC (www.ecomtrading.com). I am considering importing specialty cocoa beans into Australia and would like to explore some basics of the market to best serve the growing bean to bar makers. I would really appreciate any comments related to the below:
bean origins demanded
certification preferences (organic, FT, UTZ, RFA, IMO fair for life)
best location to store (most central to facilitate deliveries)
Atlantic Cocoa Company has been supplying the US market with high end specialty cocoa beans and products and have helped dozens of bean to bar clients seamlessly source cocoa beans that otherwise would be difficult and expensive to do alone. We consider every client a partner and would love to build to same relationships in Australia/NZ. Our current portfolio includes Dominican Republic (available fair-trade/organic or conventional), fair-trade/organic Peru Grade 1, organic Madagascar, organic Bolivia, fair-trade Ghana and Ivory Coast, and a variety of conventional grades. Minimum order quantities are one bag and direct trade importation can be arranged for 12.5 metric tons and above.
Richard Falotico
Atlantic Cocoa Company
212 248 7475
rfalotico@ecomtrading.com