Perfectly Duck-y Smashed Potatoes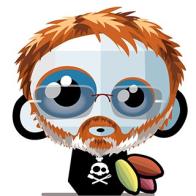 11/26/08 10:06:03AM
@clay
I was making duck confit last weekend using Daniel Bouloud's recipe and I wanted to make smashed potatoes to go with it because I was cooking for a crowd and the potato recipe accompanying the duck recipe (which itself takes at least 27 hours to prepare) was way too fussy.
But - how to make the potatoes as special as the confit? And, at the same time, cater to one guest who was very intolerant of dairy and others who were vegetarian? I ended up poaching about a half-pound of peeled whole garlic cloves (I was making A LOT of potatoes) in the duck fat as I was poaching the duck - just until they were really nicely caramelized and cooked through but before they started to really brown and get stiff.
I added all the garlic into the potatoes as I was mashing them. I used chicken stock as the liquid and used a couple of tablespoons of the melted duck fat to replace the fat in the butter and milk that I would normally have used. I had to make a veggie alternative, so I poached some garlic in olive oil on the stove top and used veggie stock and the garlic-scented olive oil.
What's your favorite way of preparing s/mashed potatoes?