Following up on the April 25th Wonk - Talking Taste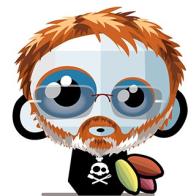 04/27/10 01:17:52PM
@clay
I want to thank everyone who braved the elements to join me at Jimmy's
#43
for the April Chocolate Wonk - Talking Taste.
The rain definitely dampened attendance, but we had a lively group and covered a lot of ground, going over many of the elements of what goes in to rating and reviewing chocolates and examining the elements that are objective versus subjective.
We also took a look at some of the issues surrounding the way chocolate is stored and the ways cocoa butter crystallizes to discuss how that can affect the chocolate and influence our perception of taste.
Chocolates presented (all in pairs except for the first one) included:
Felchlin Cru Sauvage 68%
Green & Blacks 70%
Divine 70%
Cluizel Mangaro
Valrhona Manjari
Felchlin Arriba (72%)
Vintage Plantations (90%)
Original Beans Esmeraldas (milk)
Zotter Basic 50 (milk)
Thanks to Wonk member Adrienne Henson and Susan Simmons of the Chocolate Shop at the Food Emporium on 68th and 3rd in NYC for supplying much of the chocolate (Green and Blacks, Divine, Cluizel, Valrhona, Original Beans, Zotter - and a takeaway prize of a tasting square of Akesson Brazil).
I am looking forward to the next Wonk on Sunday, May 23rd. Please let me know if you have some ideas for topics for May. In June we will talking about Raw chocolate.
:: Clay