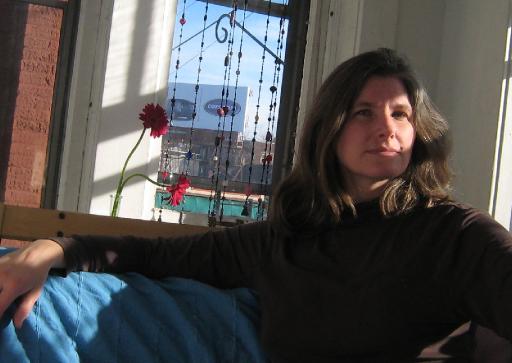 Cross posted from
The Chocolate Note
In the small mountain town of Swannanoa, just outside of Asheville, North Carolina, we meet up with David Mason, 36 year-old founder and chocolate maker of
Black Mountain Chocolate
the newest American micro batch producer.David and his wife Sarah, both native Floridians, were attracted to the Asheville area by its reputation as an artisan and foodie community, and here raise their two year old son, Trent. Black Mountain Chocolate opened its doors September, 2008, and so far it's been mainly a one man operation. Sarah handles the
books, David's mother and in-laws, who live an hour away, come to help a few days a month. Otherwise it's just David, alone in his 3,000 square foot factory, making chocolate in 100 lb. batches.David takes something of a less is more approach to his chocolate. Black Mountain Chocolate is conched for a relatively short 24 hours, and neither vanilla nor soy lecithin are added, like many other micro producers are now also veering away from adding. Black Mountain Chocolate is made using organic cane sugar, among few in the chocolate world to do this, since most chocolate makers do not want the dark flavors from the molasses left in unbleached sugar imparted to the chocolate. The chocolates are presented in an unusual format for an eating chocolate, tasting drops packed in small tins, the same weight as an average bar of chocolate.Current origins on offer include Dominican Republic (La Red,) Venezuela (Carenero Superior,) and Nicaragua (Matiguas). David is proud of his involvement with La Red and explains La Red is a co-op started by Peace Corps volunteers in Dominican Republic, and is the model that everyone would like to have. The 30 minute documentary
Chocolate Country
is about La Red." About his choice of the more uncommon Nicaragua origin, he says "I got to know a guy in Tennessee and he introduced me to cacao in Nicaragua. You dont see a lot of it in the US theres an organic chocolate company in Belgium that gets all of it but l was able to get a little bit from my source. They are trying to build up their market in the US. He sent me some samples of the Matiguas and that is the one that people seem to like the most I thought it was really good. The beans are very clean and well fermented with a nice aroma, when you open up some of the bags of beans, you can get all kinds of interesting things in there! This was was just very nice when it came here, it seemed like they spent a little more time on the beans. The chocolate has a really smooth and nice flavor. And I have some other beans from down there as well that I havent released yet."David has a background in agronomy, and attended the University of Kentucky. Between then and now, he has called nearly every southern state home for awhile. He has also worked in several fields, including manufacturing, owning an orchid nursery, landscaping, and most recently, golf course management. It was during the latest career that he was introduced to the ways of cacao. David shares with The Chocolate Note the story of how chocolate called to him, his vision of chocolate, and reveals a little known faction of chocolate connoisseurs. Chocolate Note review follows.
First cacao encounter
I was working as an assistant golf course superintendent, and we contracted employees from Mexico ten months out of the year, and one of the employees was from Oaxaca. She was telling me about their culture, and how they were surrounded by cacao. She brought me some chocolate from her family recipe and I became intrigued by that and started doing it looking around online and researching. It was more of a hobby, and I had one of those jump-off moments and thought, "Lets go in a different direction and lets give this a try!" That was 2005, the first time I made chocolate in 2007 I started the business. Those first two years were a lot of learning, experimenting, setting up the factory and all those good things. Bought small quantities of beans from various places, roasted them in the oven. I was making it for friends and family just having fun with it.I've always been a foodie, and enjoyed cooking and different types of food. And chocolate kind of blends the foodie part with the agronomy. Once I learned how cacao is grown, harvested, and processed from the farmer aspect it was really intriguing to me.
Why tasting drops?
Its about exploring it more taking your time not just eating it. Kind of that slow food thing. Let it melt in your mouth. I want people to experience the different beans, I want them to understand tasting chocolate.
And its kind of a slow start for me. These tasting drops are a precursor to our signature line of bars that will be coming out in the spring. I kind of had the idea of the tasting drops it was the way I was analyzing beans to begin with when I was getting samples. I thought this is an interesting way to put it out to the public and get feedback and see what people like and kind of guide me to our signature line. Tasting drops will stay as a product. Whenever we get beans from a new source, we will make a limited amount of these tasting drops and keep that going. The bars will be more widely distributed. The tasting drops are nice but they need some kind of an explanation for people who are not familiar with single origin chocolate and what we're doing.
Taste testers
My son Trent loves the chocolate, he's funny. One morning I was getting ready to go to work and I heard him in the kitchen. He had opened up a tin where we keep the chocolate, there were only a couple of drops left . He said "Dad, you need to go work make more chocolate almost empty go to work!" (laughs.) That's one thing that's interesting, a lot of the kids that we've given it to, at first they will spit it out. Then after awhile, they start to like it! So we are trying to build a community of two-year-olds eating dark chocolate! (laughs.) Trent comes to the factory, he sees the bags of cocoa beans, he sees pictures of the cocoa pods, he kind of knows the whole process, and he seems pretty excited about it.
Chocolate passion
Before 2005, when I learned that chocolate came from a bean, it was just a candy. Learning about it almost became an addiction. The first time I got beans in the mail, I roasted them and it was amazing. I wasnt a dark chocolate connoisseur. I carry a cocoa bean around in my pocket all the time just to remind me of why I am so just taken in by this. Its the experience its not just what I do with the bean when I get it and what I do in the factory, its what went into growing it and getting it to me, and even the history beyond that is so deep. It is intriguing all around. The fruit is coliferous, where it grows off the side of the tree, of the millions of kinds of plants there are only hundreds where the fruit grows off the side of the tree. Its just everything about it its just mystical there are hundreds of years of research and millions of dollars spent to determine just what makes the chocolate flavor. It keeps people baffled.
Chocolate Note review
About the choice of organic sugar, I fully support this move, and do not mind the few additional darker notes in the chocolates. In fact, white sugar and I are not very good friends, and it has long been a desire to see all chocolate makers use organic cane sugar instead of C&H and what have you. So I'm a fan, and this gave me a different experience with chocolate, there is something unique about Black Mountain chocolates, certainly not due only to the use of organic sugar, but to be sure also to some of David's methods. In each of the micro batch producers we find something unique, and it's a fascinating experience to explore them all, and to compare side by side their different styles. Each of three of origins did have strong common notes of molasses, pepper, and apricot jam. Whether due to the sugar or to the methods we cannot be certain, perhaps a combination. We are treated to a nice long finish with each chocolate.
Carenero Superiorrating: 8.9
This origin has been done quite well by the likes of El Rey and Domori, El Rey famously so with the Apatame and Icoa chocolates. Here is a dazzling chocolate that measures up to the standards set by these esteemed makers. Here we have a slightly different take on this always complex and interesting chocolate. An earthy chocolate that evokes fresh mounds of dirt, rivers, and mud. A spicy, woody, peppery chocolate that is almost downright zingy. Even if normally complex with plenty of darker notes, here Carenero is less fruity than elsewhere, and overall the chocolate comes off as a bit "darker" than what one might normally associate with a 70% chocolate. The organic sugar accounts for part of this, to be sure.aroma: oak, raisin, walnut, cinnamon, resin, clove, marshmallow, plum, anise, molasses, licorice, honey, banana, coconut, mango, orangeflavor: anise, hyssop, honey, lilac, toffee, dew, caramel, carrot, pistachio, honeydew, cardamom, mint, thyme, lemon, pepper, blackberry, wine, coffeefinish: tobacco, grape must, currant, green tea, cantaloupe, coffee grounds, caraway, salt, lime juice, strawberry, coconut pie, black pepper, cayenne pepper, molasses, earth, sea foam, apricot
Matiguasrating: 8.7
Tangy and refreshing is how I would describe this chocolate. Begins with a smoky, woody, leathery aroma, and ends with a sweeter, fruitier side in the late finish.aroma: leather, smoke, anise, cardamom, strong perfume, wood, rose, lilac, blackberry, green grape, cocoa pudding, sapling, apricot, peanut, walnut, orange juice, tomatoflavor: licorice, honey, oat, caramel, cinnamon, turpentine, dirt, clove, strawberry, nougat, ginger, lemon, jasmine, orchid, mushroom, musk, meringue, margarita, currant, pistachio, oak, bourbon, banana, fruit and vegetable juice cocktailfinish: plum, almond butter, butterscotch pudding, rum raisin cookie, orange juice, pumpkin seeds, allspice, black tea, vanilla, molasses, grass, herbs, rust, citrus zest, mint, hay, peach, pear, pine nuts
La Redrating: 9
Dominican Republic cacao is behind the universally applauded Michel Cluizel chocolate 'Los Ancones,' and seems to be rapidly becoming the "It" origin among the micro batch crowd. The Mast Brothers, Rogue Chocolatier, and Taza have all taken triumphant swings at this terroir. Clearly some fine beans coming out of this area, and we find a chocolate worthy of the competition in Black Mountain's version. Very complex, rather intense chocolate, with some unique characteristics. I'm sure I won't find a plate of spaghetti marinara and a side of yams in another aroma. The finish starts out like a pear caramel tart accompanied by a strong spiced coffee, while the long finish leans into more bitter, astringent flavors.aroma: honey, molasses, yam, orchid, oregano, tomato, pasta, apricot, strawberry jam, bread dough, cinnamon, nutmeg, raspberry, must, blueberry, oat, red fruity wine, unripe melon, wheat fieldflavor: tobacco, tangerine, caramel, pear, strawberry, cocoa wafers, grape jelly, graham cracker, oak, maple syrup, walnut, agave nectar, milk, lily, lilac, cantaloupe, almond, crab, musselsfinish: black licorice, lime, earth, seeds, grapefruit, coffee, anise, cream pie, pear, ashes, cigarette, wine
Tags