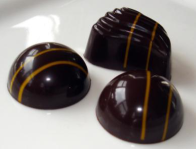 03/02/11 07:22:53PM
@gap
I have tried Guittard chocolate in the past from an American friend and liked it, but haven't found a local, Australian, source until now. USA Foods in Melbourne seems to now be stocking a limited range of Guittard products, including bars:
http://www.usafoods.com.au/store/search.php?skey=guittard&cat=-1
I have ordered from USA Foods before without any issues. I know that some DJs stores also stock USA Food products, so maybe you can get the bars in DJs, although I haven't seen them.