Raspberry Marshmallows that pair beautifully with Madagascar origin chocolate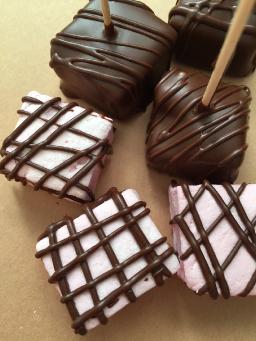 I have been experimenting with marshmallows and naturally-flavoured ones lately (for dipping in chocolate, of course), and have discovered that my recipe for raspberry marshmallows pairs quite nicely with Madagascar-origin chocolate. The recipe can be found on my blog here , but is also pasted below:
Pink Raspberry Marshmallows - natural and 'homemade'
You need:
1/3 cup organic corn syrup (I used organic, vanilla-flavoured by Wholesome Sweeteners)
3/4 cup granulated sugar (I used raw, organic cane sugar by Camino)
1/2 cup (split into 1/4 cup measurements) juice from thawed frozen raspberries, sifted to remove seeds
1/8 tsp salt
21 gram of unflavoured gelatin powder (3 7 gram packets)
1/4 cup organic icing sugar (I used Wholesome Sweeteners - it's the only organic icing sugar I could find)
1 tsp cornstarch
Instructions:
1. Prepare a 8-inch square brownie pan by greasing it with coconut oil or cooking spray. Then line it with plastic wrap, ensuring it comes up all sides about an inch. Grease the plastic wrap as well. Set aside.
2. Stir together 1/4 cup of raspberry juice, sugar and salt in a small saucepan and place on the stovetop. Heat on medium-high and bring to a boil, stirring the ingredients together.
3. While waiting for the syrup to boil, warm the other 1/4 cup of raspberry juice in the microwave for 20 seconds. Then place in the bottom of a stand mixer bowl. Sprinkle the gelatin over top and give it a stir. Let rest for 2 minutes to soften.
4. Set your mixer on high, with the whisk attached, and pour in your hot syrup, letting it stream down the sides steadily. Use a spatula to scrape in the rest.  Beat on high for 4 minutes, until it is thick and light pink and peaks form.
5. Immediately pour into your pan and quickly spread around to even out the top.
6. Let set on the counter for about two hours.
7. Place the cornstarch and icing sugar in a bowl. Grease a long straight-edged knife. Remove the marshmallow from the pan and slice into 1-inch cubes. Roll in icing sugar mixture, coating all sides.
8. Dip in, or drizzle on, tempered Madagascar origin dark chocolate.
9. Seal in bags or airtight containers. These seem to keep for well over a month when sealed airtight (if you only use plastic wrap, they will harden from air exposure).
Tags