Thinking big and growing into it...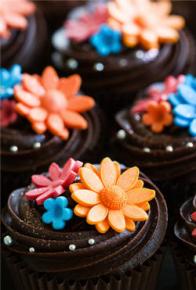 03/18/11 06:14:40AM
@gretchen-tartakoff
Wish me luck! I've tried to for three years to fit into the local Chamber of Commerce circle of business and am excited to say this is the year I've been successful. This weekend you'll see The Chocolate Bar at the Bucks County Garden and Home Show and listed on the The New Hope Chamber of Commerce in partnership promoting each others business efforts. Yes!
The bonus is that at the Garden show I'm able to Sponsor two Chocolatiers who registered to be Vendors at the 4th annual Bucks County Chocolate Show (the venue The Chocolate Bar has developed to promote Chocolatiers). Even though the venue isn't just for Bucks County Chocolatiers since this local event is Chamber organized-the connection to the Community was important. I would have loved to bring in Valrhona or les Chevaliers D'Argouges since they're Vendors too-I'm connecting them to the Community in other ways. Totally psyched to be able to grow into the dreams I've envisioned. As you start your business it pays to think big and grow into it!